Maintaining the Financial Stability of UK Banks: Update on the Support Schemes: HM Treasury
HC 676, Report by the Comptroller and Auditor General, Session 2010-11
Author:

National Audit Office (NAO)
[?ProductPublisher:9780102965612?]
Price:
[?DiscountedPrice:9780102965612?]
Add to Basket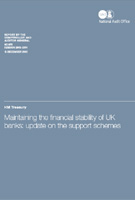 'Maintaining the Financial Stability of UK Banks: Update on the Support Schemes: HM Treasury (HC 676)' reports on the NAO's findings in relation to the scale of support currently provided to UK banks.
The scale of the support currently provided has fallen from a peak of £955 billion to £512 billion, but the amount of cash currently borrowed by the Government to support banks has risen by £7 billion since December 2009.
It is likely that the taxpayer will be providing support for years to come and that there will be no overall loss on the main guarantees.
Whilst the UK banks appear to have survived further external shocks in 2010, investors' perceptions of the risk of investing in UK banks remain as high as the summer of 2008.
The Treasury aims for the support schemes to be temporary. However, winding the support down quickly will be challenging and it is likely that the Treasury will be committed to at least some of its guarantees, loans and share investments for years to come.
The eventual cost or return to the taxpayer as a result of the Treasury's support of the banks is dependent on the Treasury's successfully disposing of its shares in RBS and Lloyd's and recouping its loans to the banking sector.
Meanwhile, the Government is paying £5 billion a year (£10 billion so far) in interest on the Government borrowing required to finance the purchase of shares and loans to banks. So far, this has been offset by the fees and interest received by the Treasury from the supported banks, but these are likely to fall in future.
| | | | |
| --- | --- | --- | --- |
| Extent | 38 pages | ISBN | 9780102965612 |
| Size | A4 | Price | [?DiscountedPrice:9780102965612?] |
| Format | Paperback | Published | [?ProductPubDate:9780102965612?] |
| Availability | Unable to check availability | Delivery | Delivery options and charges |
Related titles:
Published: [?ProductPubDate:9780102987409?]
ISBN: 9780102987409
Price: [?DiscountedPrice:9780102987409?]
Published: [?ProductPubDate:9780215543868?]
ISBN: 9780215543868
Price: [?DiscountedPrice:9780215543868?]
Published: [?ProductPubDate:9780102963199?]
ISBN: 9780102963199
Price: [?DiscountedPrice:9780102963199?]
Template Error: Unable to resolve tag 'TAXONOMYLOCATIONS'

Show all Subjects & Categories