Tackling Inequalities in Life Expectancy in Areas with the Worst Health and Deprivation: Department of Health
HC 186, Report by the Comptroller and Auditor General, Session 2010-11
Author:

National Audit Office (NAO)

Publisher:

TSO (The Stationery Office)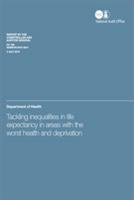 Add to Basket
As discussed in 'Tackling Inequalities in Life Expectancy in Areas with the Worst Health and Deprivation: Department of Health (HC 186)', The Department of Health has made a serious attempt to tackle health inequalities across England. However, having set a target in 2000 to reduce health inequalities, it took time to embed the issue in the policy and planning framework of the NHS and to develop an evidence base of the most cost-effective interventions.
Although life expectancy overall has increased, the gap in life expectancy between the national average and the Government's dedicated "spearhead" areas has continued to widen.
The report found that:
If current trends continue, the Department will not meet its target to reduce the health inequalities gap by 10% by 2010, as measured by life expectancy at birth.

The Department's strategy, published in 2003, lacked effective mechanisms to achieve the target because the evidence base was still being developed.

Three key, cost-effective interventions to reduce the gap in life expectancy were identified by the Health Inequalities Intervention Tool:

increase the prescribing, first, of drugs to control blood pressure;

secondly, of drugs to reduce cholesterol, by 40%; and

double the capacity of smoking cessation services.
These interventions have not yet been used on the scale required.
Primary Care Trusts (PCTs) are required to address health inequalities from within their general budgets and, therefore, it is not possible to identify how much money has been spent. PCTs in spearhead areas had £230 more per head to spend than the PCTs in non-spearheads, but there is evidence that some of the extra money is absorbed by higher hospital costs in deprived areas.


Show all Subjects & Categories