Delivering Multi-Role Tanker Aircraft Capability: Ministry of Defence
HC 433, Report by the Comptroller and Auditor General, Session 2009-2010
Author:

National Audit Office (NAO)

Publisher:

TSO (The Stationery Office)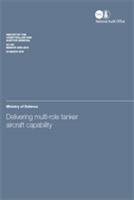 Add to Basket
The National Audit Office (NAO) has been unable to conclude that the Ministry of Defence (MOD) has achieved value for money from the procurement phase of its £10.5 billion private finance deal for the Future Strategic Tanker Aircraft (FSTA).
The selection of a private finance initiative (PFI) option was made without a sound evaluation of alternative procurement routes to justify why the PFI route offered the best value for money. Although the project to provide air-to-air refuelling and military transport aircraft has achieved its delivery milestones since contract signature, it is still likely to be delivered five and a half years later than planned.
'Delivering Multi-Role Tanker Aircraft Capability (HC 433)' reports that the MOD will pay on average £390 million per annum for the core FSTA service which includes use of the aircraft and related services and infrastructure. However, the MOD also has responsibilities to support the effective delivery of the service and ensure that it obtains value for money from the contract.
Conclusions:
Given the delay to FSTA, the MOD is being forced to rely on ageing and increasingly unreliable TriStar and VC10 aircraft to provide air-to-air refuelling and air transport to Afghanistan.

While the MOD has been successful in fulfilling these priority roles; flying hours across both fleets have reduced by 2% since 2002-03.

To assist in delivering its air transport requirements the MOD also charters passenger aircraft at a cost of approximately £175 million between 2006-07 and 2008-09.

Find similar publications here:

Show all Subjects & Categories