Addressing the Environmental Impacts of Government Procurement
HC 420, Report by the Comptroller and Auditor General, Session 2008-2009
Author:

National Audit Office (NAO)
[?ProductPublisher:9780102954753?]
Price:
[?DiscountedPrice:9780102954753?]
Add to Basket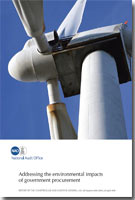 In 2005 the government set a target to be recognised by 2009 as one of the leaders in the European Union (EU) in sustainable procurement, and this report finds that government has strengthened its drive to purchase more environmentally sustainable goods and services.
The National Audit Office (NAO) reviewed actions taken by the Office of Government Commerce (OGC) and five of the largest spending departments and finds that some have introduced initiatives which are reducing environmental impact and in some cases also saving money.
The NAO's conclusions and recommendations, as set out in this report, include:
Government has yet to set quantifiable targets for departments who, instead, assess their progress in embedding sustainable procurement practices against the 'Flexible Framework' model. According to their self-assessments for 2007-08, 8 out of 22 departments reported that they are only at level one of the Framework (out of five) indicating that they have laid only the foundations of good practice.

Of the departments that the NAO examined, only the NHS Purchasing and Supply Agency (NHS PASA) reported that it is practising sustainable procurement across its business, although the Department for Work and Pensions (DWP) is close to achieving the same level.

The government has also set itself mandatory minimum environmental standards for the procurement of goods - also known as 'Quick Wins'. In 2007-08, 15 out of 21 departments reported that they were compliant with these standards, although six of these 15 did not have systems to measure their compliance.

Methods of assessing environmental costs and benefits are complex and hence expensive, and are not being used frequently by departments. The Office of Government Commerce needs to clarify how these evaluation methods should be used.
| | | | |
| --- | --- | --- | --- |
| Extent | 37 pages | ISBN | 9780102954753 |
| Size | A4 | Price | [?DiscountedPrice:9780102954753?] |
| Format | Paperback | Published | [?ProductPubDate:9780102954753?] |
| Availability | Unable to check availability | Delivery | Delivery options and charges |
Template Error: Unable to resolve tag 'TAXONOMYLOCATIONS'

Show all Subjects & Categories