The Red Dragon Project
HC 296, Report by the Comptroller and Auditor General and the Auditor General for Wales, Session 2008-2009
Author:

National Audit Office / Wales Audit Office

Publisher:

TSO (The Stationery Office)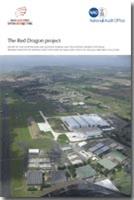 Add to Basket
The Red Dragon project - a joint scheme of the Ministry of Defence (MOD), Welsh Assembly Government and the then Welsh Development Agency (the Welsh Authorities) to provide modern aviation repair facilities at St Athan, South Wales - has cost the taxpayer around £113 million. The project involved the modernisation of ageing MOD facilities, the construction of a super-hangar for fast jet repair, and an aerospace business park.
DARA - the Defence Aviation Repair Agency - was the intended main tenant, with most of its work on RAF fast jets being moved into a purpose built facility. However, the MOD committed to the project without having decided on its full vision for aircraft support and announced in 2005 that DARA would close its fast jet business at St Athan, leaving the site without its anchor tenant by April 2007.
Other conclusions set out in this report include:
The super-hangar project has achieved efficiency savings of only £57 million as opposed to planned savings of £263 million.

Over £1 billion of cost savings have separately been made through transferring repair to main Royal Air Force operating bases.

The closure of DARA's fast jet business also resulted in many job losses.

The MOD and the Welsh Authorities did not work sufficiently closely during the project. Although they had complementary objectives to begin with, there was no common purpose between them.
The MOD and the Welsh Authorities are now working together to secure the future of the site, with plans by the MOD to establish a Defence Training Academy using the super-hangar. This could bring over 5,500 jobs to the area and provide an impetus for current plans for an aerospace park, potentially creating around an additional 2,000 jobs.
Find similar publications here:

Show all Subjects & Categories