The Building Schools for the Future Programme: Renewing the Secondary School Estate
HC 135, Report by the Comptroller and Auditor General, Session 2008-2009
Author:

National Audit Office (NAO)

Publisher:

TSO (The Stationery Office)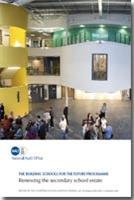 Add to Basket
The Building Schools for the Future (BSF) programme aims to rebuild, refurbish and provide new information technology for all 3,500 secondary schools in England by 2020. This National Audit Office report, 'The Building Schools for the Future Programme: Renewing the Secondary School Estate (HC 135)', focuses on:
the progress of the programme up to December 2008;

the delivery arrangements used by Local Authorities, including their local resources and capacity, the planning process and the benefits and costs of a Local Education Partnership (LEP); and

the delivery arrangements used by the Department for Children, Schools and Families (DCSF), Partnerships for Schools (PfS) and Partnerships UK (PUK), including the management of the programme by PfS and the funding arrangements for PfS and Building Schools for the Future Investments (BSFI).
78% of Local Authorities and 86% of companies involved in the BSF programme believe that it is leading to more strategic procurement of school infrastructure than previous school building programmes.
Local Authorities are using BSF to rearrange the location, type and number of schools in their area and create facilities and school environments that support their educational objectives. BSF schools are built to higher specifications and space standards than previous schools.
The DCSF and PfS (the body established by DCSF to manage the BSF programme centrally) were too optimistic in their assumptions of how quickly the first schools could be delivered. By December 2008, only 42 of the planned 200 schools had been built, with 54 due to open next year and 121 the year after. To include all schools in the programme, 250 schools will need to be built a year and the number of schools in procurement and construction at any one time will need to double from 2011 onwards.
The extent to which problems in the finance markets will affect BSF is still unclear. DCSF and PfS estimate that the total cost of renewing the school estate will be between £52 billion to £55 billion, which is £7 billion to 10 billion more than was estimated at the outset of the programme.

Find similar publications here:

Show all Subjects & Categories