Electronic Service Delivery in the Driver, Vehicle and Operator Agencies in Great Britain
HC 204, Report by the Comptroller and Auditor General, Session 2007-2008
Author:

National Audit Office (NAO)

Publisher:

TSO (The Stationery Office)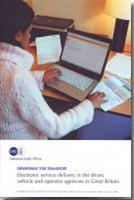 Add to Basket
The Driver and Vehicle Licensing Agency (DVLA), the Driving Standards Agency (DSA) and the Vehicle and Operator Services Agency provide services for 42 million drivers, the keepers of 36 million vehicles, 100,000 commercial vehicle operators and 19,000 authorised MoT businesses in Great Britain. These services include issuing driving licences and vehicle registration documents and conducting driving and Heavy Goods Vehicle and Public Service Vehicle roadworthiness tests. The DVLA is also responsible for collecting Vehicle Excise Duty, which raised £5 billion in 2006-07, working with a range of stakeholders, such as the police, to enforce collection of this Duty.
The Agencies handled some 124 million customer transactions in 2006-07 for the range of services which could be made available electronically. 'Electronic Service Delivery in the Driver, Vehicle and Operator Agencies in Great Britain (HC 204)' examines six of the 15 services available electronically in which the Agencies have invested at least £60 million to improve access and service delivery.
The services accounted for 12.6 million electronic transactions in 2006-07:
applications for provisional driving licence;

booking of driving tests (both practical and theory);

taking driving theory tests;

upgrading from a provisional to full driving licence;

buying car tax or making a Statutory Off-Road Notification; and

changing commercial vehicle operators' records.
The Agencies' investment of some £60 million in new technology to improve access and delivery of five of these services, and their further investment in the services for booking and taking the driving theory test, have made the services easier and quicker for customers to access and less burdensome to use. After taking account of the development cost, the services should also lead to savings of at least £33 million. However to achieve these take-up must increase and some aspects of the services must improve.
Find similar publications here:

Show all Subjects & Categories