Improving Corporate Functions Using Shared Services
HC 9, Report by the Comptroller and Auditor General, Session 2007-2008
Author:

National Audit Office (NAO)

Publisher:

TSO (The Stationery Office)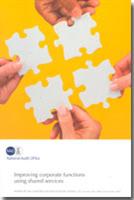 Add to Basket
Corporate services provide support, often vital, to the delivery of effective and efficient public services and cover areas such as finance and accounting, human resources, procurement, information technology, facilities, and estates management. Sir Peter Gershon's review of public sector efficiency identified benefits from shared services but found that departments' efficiency targets did not include savings specifically from shared corporate services.
'Improving Corporate Functions Using Shared Services (HC 9)' has been conducted to take account of developments in shared services between the '2004 Spending Review: New Public Spending Plans 2005 - 2008: Stability, Security and Opportunity for All - Investing in Britain's Long-term Future (Cm. 6237)' (ISBN 0101623720), and the 2007 Comprehensive Spending Review, 'Meeting the Aspirations of the British People: 2007 Pre-Budget Report and Comprehensive Spending Review (Cm. 7227)' ISBN 0101722729), both available below. The report focuses mainly on finance and human resources, which are generally the more developed areas of shared service in the public sector.
Divided into four parts:
The potential of shared services in the public sector

The problems of customer satisfaction experienced by the NHS and HM Prison Service with shared services

The variable progress across government

The lack of a clear overview from the Cabinet Office on shared services.
The report recommends that public bodies streamline their corporate service processes in line with best practice. Public bodies should also improve how they analyse the performance of their corporate services and whether there are more cost-effective ways to obtain such services. The report also recommends that Departments should increase public transparency of corporate service performance.
Find similar publications here: