The Compensation Scheme for Former Icelandic Water Trawlermen
HC 530, Report by the Comptroller and Auditor General, Session 2006-2007
Author:

National Audit Office (NAO)

Publisher:

TSO (The Stationery Office)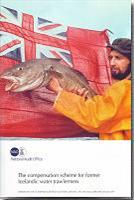 Add to Basket
In the 1970s the UK Government made agreements to end the 'Cod Wars' with Iceland, which meant that UK vessels could no longer fish in Icelandic waters, leading to the decline of distant water fishing. Trawlermen were not entitled to compensation according to the interpretation of employment law at that time, but this decision was challenged in 1993. In response, the Department for Employment set up an ex gratia scheme to compensate former trawlermen who had not sought redundancy at the time of their original dismissal. This scheme was further challenged by trawlermen, because it did not take account of the fact that many trawlermen often changed vessels and employers.
In July 2000 the Department of Trade and Industry (DTI) announced a compensation scheme to compensate former UK-based trawlermen who had worked in Icelandic waters. By March 2007 the Department had paid just under £43 million in respect of 4,400 claims out of about 7,000 former trawlermen.
'The Compensation Scheme for Former Icelandic Water Trawlermen (HC 530)' examines the compensation scheme to former Icelandic water trawlermen, and follows an earlier report from the Parliamentary and Health Service Ombudsman ('Put Together in Haste: 'Cod Wars' Trawlermen's Compensation Scheme (HC 313)', ISBN 0102944474, available below). The report had highlighted three areas of maladministration and this National Audit Office report looks at the value for money issues.
The report's main findings and conclusions include:
The compensation scheme had significant shortcomings which inhibited efficient and effective delivery of the scheme objectives.

The Department had not known enough about the fishing industry, particularly its structure and working practices, to draw up workable scheme rules.

The scheme required a clear plan of implementation with targets and risk assessment.

The scheme cost £18 million more than the initial estimate of £25 million.

Some claims took a long time to process due to problems with quality and availability of evidence and the interpretation of the scheme rules – the Department did allocate extra resources to deal with this.

Out of a sample of 100 claims, 11 cases were found where former trawlermen were overpaid and underpaid, and such problems stemmed from the Department's lack of evidence when assessing whether claims were eligible for payment under the scheme rules.

Find similar publications here:

Show all Subjects & Categories