Progress in Implementing Clinical Governance in Primary Care: Lessons for the New Primary Care Trusts
HC 100, Session 2006-2007: Report by the Comptroller and Auditor General
Author:

National Audit Office (NAO)

Publisher:

TSO (The Stationery Office)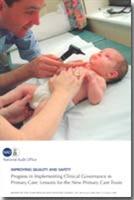 Add to Basket
Primary Care Trusts (PCTs) are responsible at the local NHS level for the statutory "duty of care", largely through implementing clinical governance. The concept of clinical governance aims to improve continuously the overall standard of clinical care; reduce variations in outcomes of, and access to, services; and ensure that local decisions are based on the most up to date evidence of what is known to be effective. The key principles of clinical governance are a coherent approach to quality improvement, clear lines of accountability for clinical quality systems and effective processes for identifying and managing risk and addressing poor performance.
Clinical governance, implemented effectively, can provide PCT Chief Executives with assurance that healthcare, whether provided directly or commissioned from other providers, is both safe and of good quality. This report, 'Progress in Implementing Clinical Governance in Primary Care: Lessons for the New Primary Care Trusts (HC 100)', finds that the organisational structures and processes for clinical governance have largely been put in place at PCT level. But progress in implementing the different components of clinical governance varies both within and between PCTs. More needs to be done to provide assurance about the performance of General Practitioners and the systems which protect the safety of patients.
Key features of those PCTs that can demonstrate consistent improvements in quality include effective clinical leadership, maintaining the capacity to deliver services, ensuring the quality of the patient experience and improving services based on lessons from complaints and patient safety incidents. The higher performing PCTs are characterised by: availability and accessibility of information to support evidence-based medicine; all staff appraised against an agreed work and development programme; service users involved in service development; clear action plans developed in response to clinical risks; and underperformance by clinical staff addressed by clear management procedures.
Find similar publications here: