Central Government's Use of Consultants
HC 128, Session 2006-2007: Report by the Comptroller and Auditor General
Author:

National Audit Office (NAO)

Publisher:

TSO (The Stationery Office)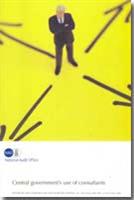 Add to Basket
This NAO report, 'Central Government's Use of Consultants (HC 128)', sets out two definitions of consultancy: (i) where individuals and companies are engaged to work on specific projects that are outside the client's business as usual; and (ii) where responsibility for the final outcome of the project largely rests with the client. Central government spent £1.8 billion on consulting in 2005-06. This report sets out a number of recommendations on the use of consultancy, including:
that public bodies need to be much better at identifying where core skill gaps exist;

that consultants should only be employed after an assessment of in-house skills;

all public bodies should adhere to OGC (Office of Government Commerce) guidance on consultancy contracts;

public bodies should explore the market for the range of approaches and contracting methods available and make more use of different payment mechanisms; and

public bodies also need to be smarter when it comes to understanding how consulting firms operate and provide sufficient incentive to staff to make any consultancy project a success.
Find similar publications here:

Show all Subjects & Categories