Tackling Cancer: Improving the Patient Journey
HC 288, Session 2004-2005
Author:

National Audit Office (NAO)
[?ProductPublisher:9780102932270?]
Price:
[?DiscountedPrice:9780102932270?]
Add to Basket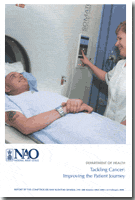 In 1999- 2000 the Department of Health undertook a large scale national survey of cancer patients to establish a their opinions on the quality of the service they received. Since that survey significant extra funds have been devoted to cancer services and so the National Audit Office decided to conduct a follow-up survey to see if there had been improvements.
Overall they found encouraging progress in most aspects of the patient experience but there were a minority of patients who had issues with the communication of information, symptom relief and lack of options in their last days. Prostrate cancer patients had the worst experiences and patients in London were less positive than those in other parts of the country.
Includes an accompanying CD-ROM of patient interviews.
| | | | |
| --- | --- | --- | --- |
| Extent | 73 pages | ISBN | 9780102932270 |
| Size | A4 | Price | [?DiscountedPrice:9780102932270?] |
| Format | Paperback (includes CD-ROM) | Published | [?ProductPubDate:9780102932270?] |
| Availability | Unable to check availability | Delivery | Delivery options and charges |
Related titles:
Published: [?ProductPubDate:9780102927573?]
ISBN: 9780102927573
Price: [?DiscountedPrice:9780102927573?]
Published: [?ProductPubDate:9780215026842?]
ISBN: 9780215026842
Price: [?DiscountedPrice:9780215026842?]
Template Error: Unable to resolve tag 'TAXONOMYLOCATIONS'

Show all Subjects & Categories