Improving Public Transport in England Through Light Rail
HCP 518, 2003/04
Author:

Great Britain National Audit Office

Publisher:

TSO (The Stationery Office)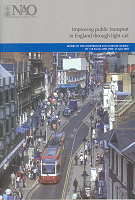 Add to Basket
This report examines the Government's funding of the construction of light rail transport systems in England. Since 1980, seven new systems have been built in England, at a cost of £2.3 billion (of which more than £1 billion has been contributed by the Department of Transport).
The report's findings conclude that light rail systems, such as Croydon Tramlink and Manchester Metrolink, have improved the level of passenger quality and choice of public transport, delivering fast, frequent and reliable services and providing a comfortable and safe journey.
Departmental expenditure has been kept within budget in five of the six schemes examined. However, there has been an incomplete evaluation of the cost-effectiveness of achievements delivered, particularly regarding the impact of these schemes on the local economy or their integration with other forms of public transport, such as buses. As a result, the Department lacks the level of information it should have for full consideration of future schemes.
Contrasts are made with systems in France and Germany, where passenger numbers are much higher, systems are better connected to services, such as hospitals, and better integrated with other public transport, and systems are heavily subsidised by local transport authorities. In France, local authorities also have access to local taxes specifically for transport projects such as light rail schemes.
The report identifies several areas for improvement in order to realise potential benefits of light rail systems in England, including removing the financial barriers faced by local authorities to develop schemes, and adopting procurement methods to maximise long term financial viability.

Find similar publications here:

Show all Subjects & Categories