Risk management. the nuclear liabilities of British Energy plc.
House of Commons papers 2003-04 264
Sorry, this book is currently not available
Format:

Corporate Author:

Great Britain National Audit Office

Publisher:

TSO (The Stationery Office)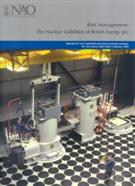 British Energy's eight nuclear stations generate 20 per cent of the electricity used in England and Wales, and half that used in Scotland. When privatised in 1996, the company was required to discharge its nuclear duties from its own resources, whilst the Government remained ultimately responsible for ensuring the safe management or disposal of spent fuel and for decommissioning stations. But in September 2002 the directors declared that the company was not clearly able to meet its liabilities. The Government gave a credit of £410 million to provide working capital for immediate requirements. This report examines the role of the Department of Trade and Industry (DTI) in the period from 1996 to September 2002, addressing the key question: did the DTI in a timely and effective manner identify, monitor and manage the risks posed to the taxpayer by British Energy's nuclear liabilities? It finds that the risks were identified on privatisation, but were not re-evaluated as the energy market changed and affected the company's costs and profits. British Energy itself did not respond effectively to the market changes. The NAO makes a number of recommendations that departments should adopt to improve the way in which they handle privatisations where there are significant ongoing liabilities to the taxpayer.
Find similar publications here: