Individual Learning Accounts 2001 - 2002
HCP 1235
Author:

Great Britain National Audit Office

Publisher:

TSO (The Stationery Office)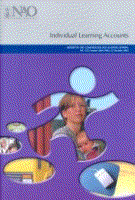 Add to Basket
The Individual Learning Account (ILA) scheme was introduced in England in September 2000, with the aim of widening participation in learning by subsidising the costs of appropriate courses. The scheme had to be closed in November 2001 due to widespread fraud and concerns that its rapid growth had outstripped its budget. It may be two years before the full cost of fraud is known, due to the volume and complexity of ongoing police investigations.
This report examines the design, implementation and closure of the scheme in view of the substantial sums of public money at risk and concerns expressed by the Commons Select Committee of Public Accounts, learners and providers. It also contains wider lessons for the design and implementation of new policies in the future.
Overall, the report concludes that although the scheme was an example of innovative policy-making, it was implemented too quickly and without adequate planning, monitoring or risk management systems in place to provide security against fraud. Serious problems with the public-private partnership approach adopted are also highlighted.
Find similar publications here:

Show all Subjects & Categories