Inappropriate Adjustments to NHS Waiting Lists
Publisher:

TSO (The Stationery Office)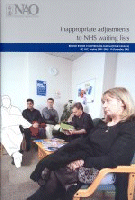 In July 2001, the National Audit Office investigated the accuracy and management of NHS waiting lists. It listed six NHS trusts where waiting lists had been inappropriately adjusted and promised further work on them. This report sets out the results of that examination, and takes account of a further three trusts where inappropriate adjustments have come to light.
It finds that these nine trusts had waiting list irregularities, three of them for some three years or more, affecting nearly 6,000 patient records. In five cases, the adjustments only came to light following patient, health authority or MP complaints, or adverse publicity. The adjustments varied significantly in their seriousness, ranging from those made by junior staff following established, but incorrect, procedures through to what appears to be deliberate manipulation or misstatement of the figures.
The nine NHS trusts involved are: Barts and the London; Guy's and St Thomas'; Plymouth General; Redbridge Health Care; Salford Royal; South Warwickshire General; Stoke Mandeville; Surrey and Sussex Healthcare; and University College London.
The report draws a number of conclusions about the procedures for investigating and dealing with alleged waiting list irregularities and dealing with staff found to have been involved, including the use of confidentiality clauses and the provision of references.
Find similar publications here: