Exclusive offer for 'My DSA' customers
Buy these two items together and save £9.99 on the RRP
Author:

Driving Standards Agency (DSA)

Publisher:

TSO (The Stationery Office)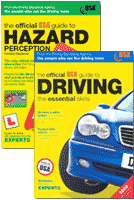 Add to Basket
This exclusive DSA pack includes:
› The Official DSA Guide to Driving - the essential skills
This book provides expert guidance on improving driving technique to help both learners and experienced motorists become safer drivers.
Key Features:
The only official guide from the UK's driving experts

Includes the latest information on Eco-safe driving and avoiding and dealing with congestion

Packed with essential advice on best driving practice for learners and experienced motorists

ISBN 0115526412, RRP £12.99
"Whether I'm instructing learners or training PDIs, this book has always been the most reliable source of reference. In my opinion, the best guide to driving just got better. If you are an ADI and don't have a copy - shame on you."Source: Review by Mac McDade, ADI News, May 2005.
› The Official DSA Guide to Hazard Perception DVD
The only official fully interactive DVD for the hazard perception part of the tests. Hazard perception is a key part of today's driving tests and this interactive DVD will help boost your driving skills and prepare you for the theory and practical tests and beyond.
This official DVD will also help those training to become Approved Driving Instructors (ADIs) prepare for the hazard perception part of the ADI theory test. For qualified ADIs this DVD is the perfect aid for helping your pupils with the hazard perception part of the theory test.
Key Features:
The only official interactive hazard perception DVD for your DVD player and PS2 and Xbox

This easy to use DVD gives clear guidance on how to recognise and respond to hazards on the road

Test your hazard perception skills with the official DVD video clips. Identify the hazards using your DVD remote and receive feedback on your performance

ISBN 0115524940, RRP £15.99
| | | | |
| --- | --- | --- | --- |
| Extent | 361 pages / 60 minutes | ISBN | 9789999055550 |
| Size | A5 / 183 x 129.5 x 14 mm | Price | £17.43 |
| Format | Paperback / CD-ROM | Published | 01 Mar 2006 |
| Availability | In Stock: 1 - 2 days | Delivery | Delivery options and charges |
Find similar publications here: