ADR 2009 (European Agreement Concerning the International Carriage of Dangerous Goods by Road)
Print Version
Author:

United Nations (UN) - Economic Commission for Europe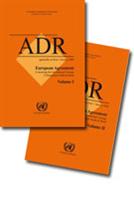 Add to Basket
This European Agreement aims at increasing the safety of the international transport of dangerous goods (including dangerous wastes) by road. Dangerous goods are classified according to their dangerous physical and chemical properties.
This new set of amendments comes into force on 1 January 2009 for international transport, with a six month transitional period, and on 1 July 2009 for domestic traffic for member states of the EU.
Contains fully updated requirements to all parts, including:
Part 1: new provisions and the introduction of new entries in the list of high consequence dangerous goods.

Part 2: new provisions for the classification of environmentally hazardous substances.

Part 3: new UN entries for fuel cell cartridges containing corrosive substances, liquefied flammable gas, water reactive substances and hydrogen in metal hydride.

Part 4: new requirements for the use of Mobile Explosives Manufacturing Units (MEMUs).

Part 5: revised marking provisions for environmentally hazardous substances.

Part 6: full revision of Chapter 6.2 (pressure receptacles).

Part 7: changes to the general provisions concerning loading, unloading and handling.

Parts 8 and 9: revised provisions concerning the restrictions for the passage of vehicles through road tunnels.
This new paperback of amendments is presented in two volumes and includes the added value of U-Tags for the first time, allowing users to insert each tag in vital locations within the agreement for ease of reference.
ADR 2009 will also be available as a CD-ROM priced at £110.00 (£126.50 inc. VAT) and as a print and CD-ROM pack priced at £156.00 (£158.34 inc. VAT), both of which are available to order below.
Find similar publications here: