Report On Improving Pupil Attendance: Follow-Up Report
NIA 181/11-15, Twenty-Third Report of Session 2011-15 - Report, Together with the Minutes of Proceedings of the Committee Relating to the Report and the Minutes of Evidence
Author:

Northern Ireland Assembly - Public Accounts Committee

Publisher:

TSO (The Stationery Office)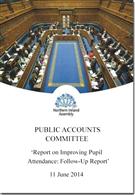 'Report On Improving Pupil Attendance: Follow-Up Report (NIA 181/11-15)' finds that the Education Welfare Service (EWS) is not on top of the problem of non-attendance at school. 16,000 pupils in Northern Ireland miss almost six weeks of school, yet schools have not made referrals to the EWS for support.
The report also finds that the local unauthorised absence record was double that reported in England. There were particular problems for the most vulnerable young people, including pupils from social deprived backgrounds, Traveller children and children in care. Many of those who miss school are not contacted by the EWS and therefore do not get the help they need to return to education.
The report recommends that the EWS put into place a mechanism to identify pupils requiring help at the earliest possible opportunity.
Find similar publications here: