Report on the Sunbeds Bill
Northern Ireland Assembly Report NIA 77/09/10R, First Report of Session 2010-11 - Report Together with the Minutes of Proceedings, Minutes of Evidence and Written Submissions Relating To The Report
Author:

Northern Ireland Assembly - Health, Social Services and Public Safety Committee

Publisher:

TSO (The Stationery Office)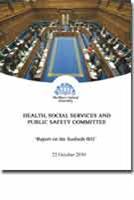 The incidences of malignant melanoma skin cancers have nearly trebled in the last 25 years with young skin proving to be particularly vulnerable. The aim of the Sunbeds Bill is to seek to prevent the use of sunbeds by persons under 18 years of age. It is hoped this will encourage behavioural change and, in the longer term, prevent skins cancers.
It will also regulate the industry by providing a clear legislative structure to which all sunbed premises will be required to adhere. Some of the regulations will include:
conditions for sale or hire of a sunbed;

the use of protective eyewear while using sunbeds;

training for those operating sunbeds; and

that all sunbeds for use in sunbed premises meet required standards.
The first key issue addressed by the Committee was that of licensing. Licensing would require all commercial sunbed premises, or operators of such premises, and those that hired or sold sunbeds to hold a licence.
The second key issue explored by the Committee concerned the level of fines and fixed penalties. Another issue raised was whether the person who buys or hires a sunbed for use in a private home should be obliged to ensure that it is not used by a person under 18 years. The Committee noted that the Department had considered the possible use of the Children (Northern Ireland) Order 1995, if a child came to harm from using a sunbed in a private home.
The final issue discussed briefly by the Committee concerned the possibility of an outright ban on people over 18 years with skin type one.
Find similar publications here: