Implications for the Justice and Home Affairs Area of the Accession of Turkey to the European Union
HC 789, Tenth Report of Session 2010-12 - Report, Together with Formal Minutes, Oral and Written Evidence
Author:

House of Commons - Home Affairs Committee

Publisher:

TSO (The Stationery Office)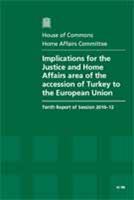 Add to Basket
This report, 'Implications for the Justice and Home Affairs Area of the Accession of Turkey to the European Union (HC 789)' expresses concerns about the implications of Turkish accession to the EU for the security of the EU external border, noting that Turkey's membership would extend this up to Iran, Iraq and Syria. However, the Committee also believes that the risks are outweighed by the potential benefits - partly in terms of the standards that Turkey will be required to meet to become an EU Member, but largely owing to the opportunities it will bring for increased cooperation.
The land border between Greece and Turkey constitutes the main loophole for irregular immigration into the EU and the Committee makes a number of recommendations to improve the current response.
The presence of a team from Frontex, the EU border agency, at the land border between Greece and Turkey since November 2010 was associated with a reduction in the number of irregular crossings (from 7,607 in October 2010 to 1,632 in February 2011). However, Frontex is unable to turn back migrants. It might therefore be more effective for the agency to work alongside Turkish border agencies and the EU should amend the Frontex Regulation accordingly. Disrupting the criminal networks is the key, and improved intelligence-sharing across national and agency boundaries is critical to achieving this.
The Committee urges the EU to make special arrangements for Turkey to take on some of the attributes of EU membership prior to full accession, in order to tackle organised drug and immigration crime more effectively.
The Committee is impressed by the close and successful working relationship between the UK and Turkish law enforcement agencies and calls for this to be replicated within EU agencies such as Europol.
Finally, the Committee urges an impact assessment of the likely scale of legal migration of Turkey nationals to the UK following EU accession, given the lack of an official estimate.
Find similar publications here: