The Government's Proposed Child Maintenance Reforms
HC 1047-I, Fifth Report of Session 2010-12 - Volume I: Report, Together with Formal Minutes
Author:

House of Commons - Works and Pensions Committee

Publisher:

TSO (The Stationery Office)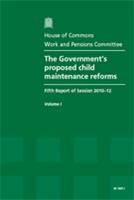 Add to Basket
This report, 'The Government's Proposed Child Maintenance Reforms (HC 1047-I)' calls on the Government to establish a more efficient way to administer the statutory child maintenance service, the Child Maintenance and Enforcement Commission. It highlights that in 2009-10 it cost £572 million to administer its collection service but that only £1,141 million in maintenance payments reached children; a cost of 50 pence for every £1 collected.
The report examines the Government's proposed reforms of the child maintenance system, as set out in the Green Paper 'Strengthening Families, Promoting Parental Responsibility: the Future of Child Maintenance (Cm. 7990)' (listed below).
The report's recommendations include:
Non-resident parents should be required to pay child maintenance through direct deductions from their salaries or bank accounts, ensuring that parents with care receive agreed child maintenance payments on time and at the correct level.

Where a parent with care has taken all reasonable steps to reach a voluntary agreement, both the proposed application and collection charge for the service should be borne by the non-resident parent.

The proposals for collection charges are excessive and unnecessarily complex and should be replaced by a single, modest administrative charge.

The Government must ensure that its proposed network of improved advice and support services is operating effectively in all areas before charges for the statutory system are introduced.

The proposed gateway process is a positive development, as mediation and collaboration could resolve problems for separating parents at the earliest stage.

The operational weaknesses of the Child Support Agency, including ongoing IT problems and a reported £3.8 billion in uncollected payments must be addressed.
Find similar publications here: