FCO Performance and Finances
HC 572, Third Report of Session 2010-11 - Volume I: Report, Together with Formal Minutes, Oral and Written Evidence
Author:

House of Commons - Foreign Affairs Committee

Publisher:

TSO (The Stationery Office)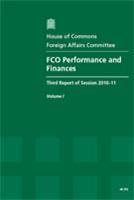 Add to Basket
The British Foreign & Commonwealth Office's (FCO's) financial situation and the implications of the Spending Review 2010 for its work and performance, and that of its associated body, the British Council are analysed in the report 'FCO Performance and Finances (HC 572)'.
The FCO is one of the major departmental 'losers' in the Spending Review. Reductions in spending on the FCO, if they result in shortfalls in skilled personnel and technical support in key countries and regions, can have a serious effect in terms of the UK's relations with foreign countries, out of all proportion to the amounts of money involved, especially in relation to the UK's security and that of its Overseas Territories. Cuts to the core FCO budget of even 10% may have a damaging effect on the Department's ability to promote UK interests overseas. The FCO will also face cuts of 55% to its capital budget.
The target of raising £50 million per year through selling existing buildings may be difficult to achieve, and may not secure savings in the long-term. A further reduction in the opportunities for more junior UK-based staff to serve in overseas posts, and a consequent diminishing of experience and morale among FCO employees, could over time have a damaging effect on the quality of British diplomacy and the effectiveness of the FCO.
The British Council, facing a 25% cut in spending, should give detailed information on its strategy for implementing the cut, which may well trigger fundamental rethinking of the role and work of the Council.
Find similar publications here: