FCO Public Diplomacy: the Olympics and Paralympic Games 2012
HC 581, Second Report of Session 2010-11 - Report, Together with Formal Minutes, Oral and Written Evidence
Author:

House of Commons - Foreign Affairs Committee

Publisher:

TSO (The Stationery Office)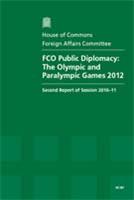 Add to Basket
The 2012 London Olympic and Paralympic Games is likely to be a 'once in a generation' opportunity for the UK to attract the attention and interest of the entire global community.
The 'FCO Public Diplomacy: The Olympic and Paralympic Games 2012 (HC 581)' report reviews other countries' experience of using major sporting events for public diplomacy purposes. The Games offer an unparalleled opportunity to promote UK business, trade and inward investment.
Committee recommendations:
to hold a major trade event close to or during the Games to secure the maximum commercial benefit to the national economy;

the British Foreign & Commonwealth Office (FCO) should make more of the claim that the 2012 Games will be "the world's first sustainable Games", publicising around the world the many examples of environmental good practice in the planning and building of the event;

the FCO should continue to use the Games to promote British culture and values at home and abroad, emphasising that London is an open and welcoming city, and that the UK is a diverse, inclusive and friendly country; and

a 'rapid response unit' should be set up well before the Games, which can rebut or challenge negative stories appearing in the world media.
The Committee is worried that budget cuts may result in the FCO's work related to the Olympics becoming a matter solely of individual initiatives by embassies and High Commissions, without adequate central co-ordination.
Find similar publications here: