Changes to Housing Benefit Announced in the June 2010 Budget
HC 469, Second Report of Session 2010-11 - Report, Together with Formal Minutes, Oral and Written Evidence
Author:

House of Commons - Work and Pensions Committee

Publisher:

TSO (The Stationery Office)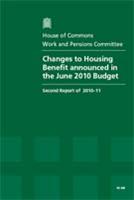 Add to Basket
The Work and Pensions Committee report that there is still a level of uncertainty around the impact of the proposed changes to Housing Benefit and their cumulative effect on households.
'Changes to Housing Benefit Announced in the June 2010 Budget (HC 469)' examines the wide-ranging reforms to the Housing Benefit system proposed by the Government, and in particular for claimants in the private rented sector, in receipt of Local Housing Allowance.
The Committee accepts the Government's desire to slow the sharp rise in Housing Benefit costs, particularly in the private rented sector, and thereby to influence the private rental market. However, it expresses some concerns about the availability of private rented accommodation in certain localities, which tenants are likely to be able to secure at the new Housing Benefit levels.
Find similar publications here: