Office for Budget Responsibility
HC 385, Fourth Report of Session 2010-11: Volume 1 - Report, Together with Formal Minutes, Oral and Written Evidence
Author:

House of Commons - Treasury Committee

Publisher:

TSO (The Stationery Office)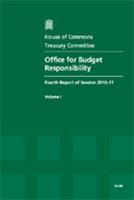 Add to Basket
'Office for Budget Responsibility (HC 385)' is the fourth report from the Treasury Committee and looks at the Office for Budget Responsibility (OBR). The Office was established by the Chancellor of the Exchequer and given responsibility, as an independent body, for the Government's budget forecast.
The Committee sets out a number of recommendations for the body to succeed in its independent role, including:
Establishment of the OBR as an institution with its own legal personality

To act transparently, objectively, and independently

A requirement that the OBR has a right of access to the information it needs

A clear remit and set of core tasks

For the responsible select committee to have a veto over appointment or dismissal of the Chair

A requirement that government officials support the OBR when it is preparing forecast.
The legislation establishing the OBR should not require future governments to use OBR forecasts. The Committee further states that a great deal will depend on matters which cannot be provided for directly in statute, in particular the calibre of the members of the Budgetary Responsibility Committee and of the non-executive directors.
For the OBR to succeed, it is vital that it commands confidence across party boundaries and that the OBR's work should lead to greater public understanding of the purpose and limitations of the forecasting process, and realistic expectations of what it can deliver.
Find similar publications here: