Too Important to Fail - Too Important to Ignore
HC 261-I, Ninth Report of Session 2009-10 - Volume I: Report, Together with Formal Minutes
Author:

House of Commons - Treasury Committee

Publisher:

TSO (The Stationery Office)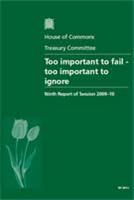 Add to Basket
The Treasury Committee considers the issue of the existence of a type of financial firm or firms which are 'too important to fail' so integral to the financial system that it was necessary for governments to bail them out during the banking crisis.
'Too Important to Fail - Too Important to Ignore (HC 261-I)' concludes that the actions governments had to take to ensure financial stability have resulted in a market which operates on the assumption that systemically important firms will be rescued if necessary and radical reform is needed.
The report looks at the range of reforms currently under consideration and assesses them against the objectives of an orderly banking system; protecting the consumer, protecting the taxpayer, setting an appropriate cost of doing business and providing lending to the economy. It emphasises that successful reform would transfer risk away from Government and back into the banking sector.
The Committee is doubtful about how far evolutionary reform can make sufficient changes. Unlike the USA the government has ruled out structural reforms such as narrow banking and the report calls for the debate on banking reform to remain as wide as possible. The UK can only benefit from constructive international agreement but that prevarication on international agreement must not be used as an excuse to delay or at worst, prevent reform.
As Britain has a very large banking system relative to GDP, compared to other countries its reform is anyway in the UK's own self-interest even if it is not coordinated with reforms in other countries.
Find similar publications here: