The Cocaine Trade
HC 74-I, Seventh Report of Session 2009-10 – Volume I: Report, Together with Formal Minutes
Author:

House of Commons – Home Affairs Committee

Publisher:

TSO (The Stationery Office)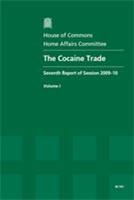 Add to Basket
Cocaine is a dangerous drug linked to heart disease, long-term erosion of cognitive brain function, and has extremely toxic effects when combined with alcohol. In 2008 some 235 sudden deaths were associated with cocaine. Cocaine powder use in the UK has quintupled from 1996 to 2008/9, contrary to the overall trend in illicit drug use in the UK.
Any successful policy against cocaine must address both supply-side enforcement and demand reduction. 'The Cocaine Trade (HC 74-I)' notes some successful operations to prevent couriers from reaching the UK, but the degree of success is difficult to quantify. The Committee was shocked that only 3.5 tonnes of cocaine was seized in the UK last year, whilst 25-30 tonnes enter it annually. This interception rate is woefully inadequate. The UK Border Agency target to seize 2.4 tonnes of cocaine this year is both unambitious and perplexing since it is lower than the amount it seized in both previous years.
The report finds no evidence that enforcement has affected availability on the street. Instead demand-driven trends in cocaine use offer more compelling explanations for the fall in street-level purity (some seizures containing only 5% cocaine). Greater attention must be focused on targeting demand, in particular to challenge the socially acceptable image of cocaine powder and its misguided reputation as a 'safe', non-addictive party drug. Public information campaigns have a key role in tackling demand. More residential rehabilitation should be made available. The Committee praises high-visibility anti-cocaine operations run by some police forces in town centres at night.
Find similar publications here: