Patient Safety
HC 151-I, Sixth Report of Session 2008-09 - Volume I: Report, Together with Formal Minutes
Author:

House of Commons - Health Committee

Publisher:

TSO (The Stationery Office)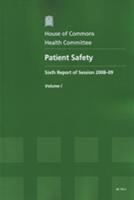 Add to Basket
Reviews of patients' case notes indicate that in the NHS and in other healthcare systems as many as 10% of patients admitted to hospital suffer some form of harm, much of which is avoidable. Tens of thousands of patients suffer unnecessary harm each year and there is a huge cost to the NHS in consequence.
This report, 'Patient Safety (HC 151-I)', examines the implementation of safety policy since 2000.
That policy has focused on the creation of a unified national mechanism for reporting and analysing incidents, underpinned by a new culture of openness in the NHS. Systems for reporting and learning from incidents were established, centred on the National Reporting and Learning System (NRLS) and the National Patient Safety Agency (NPSA).
The Committee finds areas where policy has failed, barriers to change and other reasons for slow progress. It recommends several changes that need to be made in order for there to be further progress in tackling unsafe care.
The recommendations are in the areas of:
measurement and evaluation;

harmed patients and their families or carers;

creating a more open, reporting and learning NHS;

more patient safety at the front line in the NHS;

greater use of technologies to improve care;

improvements in the education and training curricula;

commissioning by Primary Care Trusts, performance management and regulation;

the role of managers and boards; and

the role of the Department of Health and Government.
Find similar publications here: