Regional Accountability
HC 282, Third Report of Session 2007-08 – Report, Together with Formal Minutes, Oral and Written Evidence
Author:

House of Commons – Select Committee on the Modernisation of the House of Commons

Publisher:

TSO (The Stationery Office)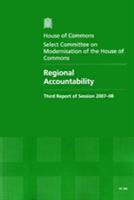 Add to Basket
The July 2007 'Governance of Britain' Green Paper (Cm. 7170, ISBN 9780101717021) put forward proposals for improved democratic accountability and scrutiny of the delivery of public services in the English regions. In this report, 'Regional Accountability (HC 282)', the Committee concludes that there is clear evidence of an accountability gap at regional level.
Although accountable to ministers, Regional Development Agencies (RDAs) still conduct many activities that are not subject to a regular, robust scrutiny. The Committee believes more should be done to monitor the delivery of services. With this in mind, the Committee recommends the establishment of a system of regional select committees, with one select committee for each of the administrative regions in England, with the exception of London.
Further, the Committee recommends that up to two regional grand committee meetings should take place in each session for each of the eight regions. To avoid an adverse impact on House Members' other commitments, membership of regional committees should consist of 10 Members in total. This report therefore sets out a desirability of establishing new structures within the House of Commons to improve regional accountability and Parliamentary scrutiny.
Find similar publications here: