Overseeing Financial Sustainability In The Further Education Sector
HC 414, Thirteenth Report of Session 2015-16 - Report, Together with Formal Minutes Relating to the Report
Author:

House of Commons - Committee of Public Accounts

Publisher:

TSO (The Stationery Office)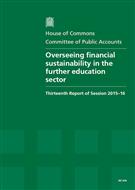 Add to Basket
The report 'Overseeing Financial Sustainability In The Further Education Sector (HC 414)' examines the response to the declining financial health of many further education colleges, which has potentially serious consequences for learners and local economies.
Bodies responsible for funding and oversight have been slow to address the problem. Too often, they have taken decisions without understanding the cumulative impact that these decisions have on colleges and their learners. Oversight arrangements are complex, sometimes overlapping, and too focused on intervening when financial problems have already become serious rather than helping to prevent them in the first place.
The Department for Business, Innovation and Skills, and the Department for Education appear to see area based reviews of post-16 education as a fix all solution to the current problems, but the reviews do not cover all types of provider and it is not clear how they will deliver a robust and financially sustainable sector.
Find similar publications here: