Flexible Response? A SDSR Checklist Of Potential Threats And Vulnerabilities
HC 493, First Report of 2015-6 - Report, Together with Formal Minutes Relating to the Report
Author:

House of Commons - Defence Committee

Publisher:

TSO (The Stationery Office)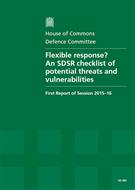 Add to Basket
The report 'Flexible Response? A SDSR Checklist Of Potential Threats And Vulnerabilities (HC 493)' provides a checklist of 11 potential threats and general vulnerabilities which ought to be addressed in the imminent Strategic Defence and Security Review (SDSR).
The Committee believes that the Government's tiered approach to mapping the threat picture, soon to be set out in the National Security Strategy, is flawed in assuming that the probability of potential threats becoming actual ones can reliably be predicted. Greater emphasis should be laid upon military flexibility; the ability of versatile Armed Forces to cope with what cannot reliably be foretold.
Consequently, the checklist does not pretend to prioritise the credible potential threats and vulnerabilities listed. The Committee intends to evaluate the SDSR against its checklist to see if it provides an adequate structure for the Armed Forces to cope with and counter each of these threats if it actually emerges between now and the next Defence Review.