Government Proposals For English Votes For English Laws Standing Orders: Interim Report
HC 410, First Report of Session 2015-16 - Report, Together with Formal Minutes Relating to the Report
Author:

House of Commons - Procedure Committee

Publisher:

TSO (The Stationery Office)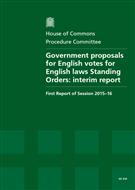 Add to Basket
The Government's report 'Government Proposals For English Votes For English Laws Standing Orders: Interim Report (HC 410)' proposes the creation of a mechanism whereby Members of the House representing English, English and Welsh or (occasionally) English, Welsh and Northern Ireland constituencies can consent to, or veto, elements of Bills proposed by the Government.
This new legislative stage, which is termed in this report the 'consent stage', would be inserted between the current Report stage of a Bill and its Third Reading, and would involve a new procedural vehicle which is given the title of a 'legislative grand committee'. This would be by way of new and amended Standing Orders. This interim report considers that mechanism and associated processes, including those which it is proposed to apply to secondary legislation.
The Committee will assess the implementation of any new procedures, and recommends that the proposed new procedures be piloted on no more than three Bills in the remainder of this Session. Following Royal Assent to the last of those Bills, the Committee will undertake a technical assessment of how the procedures have operated.
The report recommends that the consent of Members for constituencies in England, or England and Wales, to primary legislative provisions relating to England, or England and Wales, at Report stage be determined through applying a double majority requirement to the votes held at that stage. This would largely replace the separate consent stage proposed, though the Government's proposed legislative grand committees would be retained for resolution of any disagreements.