Our Work In The 2010-2015 Parliament
HC 1152 - Seventh Report of Session 2014-15 - Report, Together with Formal Minutes Relating to the Report
Author:

House of Commons - Public Administration Select Committee

Publisher:

TSO (The Stationery Office)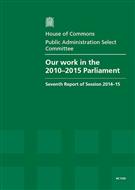 Add to Basket
As one of a small number of cross-Government select committees, this Committee has gained a perspective on the state of Whitehall and its agencies which is not available to departmental select committees; the report 'Our Work In The 2010-2015 Parliament (HC 1152)' examines their achievements during this parliament.
Throughout the past five years the recurring theme of the Committee's findings and recommendations reflects the importance of effective leadership in creating effective organisations. It is the positive or negative attitudes and behaviour in the people and the culture of an organisation which determines success or failure. Structures, processes and systems are also important but preoccupation with these can become a distraction from the real problems, which is about why people do not share information for the common good, collaborate effectively and trust one another.
The Committee took control of the process of selection of the Parliamentary and Health Service Ombudsman (PHSO) away from the Government altogether, so that for the first time Parliament has appointed its Ombudsman. They have also held many pre-appointment hearings for the Chairs of public bodies and were the first Select Committee to refuse to accept a Government nomination for the chair of a public body. The Government was forced to re-run the selection for the post of Chair of the UK Statistics Authority under a new selection panel, and to propose a different candidate. They also hold hearings on PHSO's thematic reports, to interrogate and hold to account those who must respond to its recommendations.
The report concludes that the Committee has worked together effectively as a team despite political differences, and the often controversial issues tackled.
Find similar publications here: