The Work Of The Committee Of Public Accounts 2010-15
HC 1141, Fifty-Second Report of Session 2014-15 - Report, Together with Formal Minutes Relating to the Report
Author:

House of Commons - Commitee of Public Accounts

Publisher:

TSO (The Stationery Office)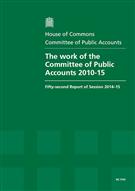 Add to Basket
The report 'The Work Of The Committee Of Public Accounts 2010-15 (HC 1141) ' summarises the key areas of the Public Accounts Committee's work over the past five years. It draws out the areas where progress has been made and where their successors might wish to press in future.
The Committee has assiduously followed the taxpayer's pound wherever it was spent. Since 2010, it held 276 evidence sessions and published 244 unanimous reports to hold government to account for its performance. 88% of their recommendations were accepted by departments. In many cases the Committee successfully secured substantial changes, for example with the once secret tax avoidance industry.
Consensus has been secured from Government and from industry that private providers of public services do have a duty of care to the taxpayer, and in pushing the protection of whistleblowers further up the agenda of all government departments. By drawing attention to mistakes in the Department for Transport's procurement of the West Coast Mainline, more recent procurements for Crossrail, Thameslink and Intercity Express have all benefited from more expert advice and a more appropriate level of challenge from senior staff.
After discovery in 2012-13 that 63% of calls to Government call centres were to higher rate telephone numbers, the Government accepted our recommendation that telephone lines serving vulnerable and low income groups never be charged above the geographic rate and that 03 numbers should be available for all government telephone lines.
The Committee also secured a commitment to close large mental health hospitals.
Find similar publications here: