The Work Of The Immigration Directorates: Calais
HC 902, Eighteenth Report of Session 2014-15 - Report, Together with Formal Minutes Relating to the Report
Author:

House of Commons - Home Affairs Committee

Publisher:

TSO (The Stationery Office)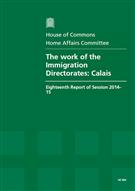 Add to Basket
The Committee report 'The Work Of The Immigration Directorates: Calais (HC 902)' highlights the growing number and living conditions of migrants in Calais, and how the enhanced security measures brought in to counter them have affected the residents of Calais, the reputation of the port of Calais and the ease with which trade and traffic can pass between Britain and the Continent.
Calais is the closest entry point to the UK from Europe with frequent ferry services to Dover, the Eurotunnel Shuttle service to Folkestone and direct passenger trains to London St Pancras. About 10 million passengers and about £89 billion worth of UK trade pass through the port of Calais every year. A further 20 million passengers pass through the tunnel on Eurostar or the Shuttle. Most of the traffic is freight. Most of the passengers are British citizens on leisure trips.
Some of the migrants live in squats and small camps in the town of Calais but most live in makeshift tents made out of plastic sheets and canvas, poorly constructed and located in empty industrial sites or woodland. The camps are not permanent and Calais is not the final destination, but a staging post for migrants wishing to enter the UK illegally.
The UK cannot ignore the issues around Calais. While security in France is the responsibility of the French authorities, the UK operates juxtaposed border controls in Calais and Coquelles. These juxtaposed controls enable all border administration for entry to the UK to take place before passengers and vehicles leave France.
Efficient management of queues and the ability to deliver on time are important - both to avoid disruption to carriers' timetables, and to avoid the excessive build-up of traffic on the surrounding road network. As well as ensuring the efficient and timely processing of travellers and freight, the border controls are needed to ensure the integrity of the UK border.
Find similar publications here: