Lessons For Civil Service Impartiality From The Scottish Independence Referendum
HC 111, Fifth Report of Session 2014-15 - Report, Together with Formal Minutes Relating to the Report
Author:

House of Commons - Public Administration Select Committee

Publisher:

TSO (The Stationery Office)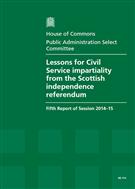 Add to Basket
On 18 September 2014, the Scottish public voted for Scotland to remain part of the United Kingdom. The roles played by civil servants in both Scotland and London in the Scottish referendum last summer were subject to criticism and controversy; the report 'Lessons For Civil Service Impartiality From The Scottish Independence Referendum (HC 111)' has been compiled so that lessons may be drawn for future referendums.
The referendum campaign exposed two major issues:
first, the question of how a unified Civil Service can serve both HM Government and the Scottish Government; and

second, the challenges to Civil Service impartiality generated by the Scottish independence referendum.
Particular concerns were raised about the Scottish Government's White Paper, Scotland's Future, which included a description of the Scottish National Party's proposed programme for government that was contingent upon their winning the 2016 Scottish Parliament elections. This did not uphold the factual standards expected of a UK Government White Paper, and raised questions about the use of public money for partisan purposes.
There was also concern that the publication of normally confidential advice by the Permanent Secretary to the Treasury called into question the impartiality of the Civil Service. The Committee concludes that parts of the White Paper should not have been included in a government publication.
Civil servants should not be required to carry out ministers' wishes, if they are being asked to use public funds to promote the agenda of a political party, as was evident in this case.
Find similar publications here: