Local Nature Partnerships
HC 858, Twelfth Report of Session 2014-15 - Report, Together with Formal Minutes Relating to the Report
Author:

House of Commons Environmental Audit Committee

Publisher:

TSO (The Stationery Office)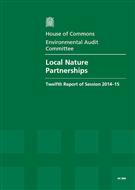 Add to Basket
The report 'Local Nature partnerships (HC 858) examines the success of the introduction of Local nature Partnerships (LNP) to support the empowerment of local people to make decisions that affect the natural environment in their areas.
Where LNPs have been successful, they have demonstrated the benefits of local engagement, harnessing enthusiasm in finding solutions to local priorities. Where they have not been successful, the solution is not to impose additional tasks but to re-energise the unfocussed local commitment.
Many LNPs are starved of funding and resources, meaning much of the good work in getting them up and running, is being undone. The whole country-urban as well as rural-need the natural environment protections that LNPs can provide.
Rather than leave under-performing LNPs to wither away, the next Government should urgently review LNPs and their funding, and re-energise the initiative.
Find similar publications here: