Cross-border Health Arrangements Between England and Wales
HC 404, Third Report of Session 2014-15 - Report, Together with Formal Minutes Relating to the Report
Author:

House of Commons - Welsh Affairs Committee

Publisher:

TSO (The Stationery Office)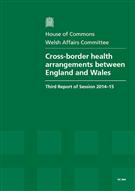 Add to Basket
'Cross-border Health Arrangements Between England and Wales (HC 404)' examines the difference in quality of healthcare between Wales and England and how this effects people living on the border.
Since the Committee last examined this issue, there has been increasing divergence between the healthcare systems of England and Wales, which has implications for patients in border areas who rely on healthcare facilities on the other side of the border.
In April 2013 the NHS Wales and NHS Commissioning Board England agreed a Protocol for Cross-border Healthcare Services to ensure smooth and efficient interaction between the NHS on either side of the England-Wales border, but it is not clear how well this has been functioning to date.
The Committee is also conducting a web forum to hear the experiences of patients who rely on services on the other side of the border and the views of medical professionals and social care practitioners.
Find similar publications here: