Northern Ireland: Banking On recovery?
HC 178, First Report of Session 2014-15 - Report, Together with Formal Minutes Relating to the Report
Author:

House of Commons - Northern Ireland Affairs Committee

Publisher:

TSO (The Stationery Office)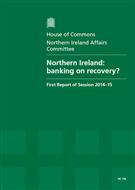 Add to Basket
From the reckless high-risk attitude of many banks pre-financial crisis, the pendulum appears to have swung too far back in the opposite direction, according to the report 'Northern Ireland: Banking On recovery? (HC 178)'.
Over the past year the Northern Ireland economy has shown very welcome signs of recovery, with many new jobs recently being announced, and the banks themselves showing a return to profitability. The banks need to build on this.
It is regrettable that banks such as FTB and Danske have chosen not to participate in HM Government's Funding for Lending Scheme, thereby potentially denying Northern Ireland further capacity for growth. The banks have assured that they are 'open for business', but it is essential that they follow up to help small businesses play their part in Northern Ireland's economic recovery.
Customer service and IT services need to improve considerably for banks themselves to play their part.
Find similar publications here: