Smaller Airports
HC 713, Ninth Report of Session 2014-14 - Report, Together with Formal Minutes Relating to the Report
Author:

House of Commons - Transport Committee

Publisher:

TSO (The Stationery Office)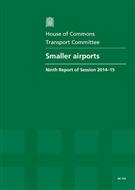 Add to Basket
The report 'Smaller Airports (HC 713)' examines the state of the smaller airport sector.
Smaller airports are economic and social enablers. They facilitate vital national and international connections for people and businesses in the UK.
The Committee concludes that Air Passenger Duty (APD) is the principal threat to the smaller airports sector. APD cannot be amended to support people, businesses and regional economies because of the operation of European competition law, while proposals to devolve it to the regions would serve only to spread a patchwork of market distortions across the UK.
Concerns the Committee raised about APD in their First Report of Session 2013-14 on Aviation strategy have been ignored by HM Treasury. The Committee urges Transport Ministers to pursue those recommendations and the important concerns raised by smaller airports with the Treasury.
The Airports Commission will publish its final report on expanding hub airport capacity in the south-east shortly after the general election. The whole country will only be able to share the economic benefits if airlines secure slots to provide services to UK airports outside London. The Department for Transport needs to assess how new slots might be allocated and whether slots could be ring-fenced for domestic services.
Find similar publications here: