Progress With Automatic Enrolment And Pension Reforms
HC 668, Fourth Report of Session 2014-15 - Report, Together with Formal Minutes Relating to the Report
Author:

House of Commons - Work and Pensions Committee

Publisher:

TSO (The Stationery Office)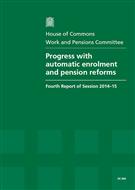 Add to Basket
The report 'Progress With Automatic Enrolment And Pension Reforms (HC 668)' examines the Government's progress in implementing Automatic Enrolment (AE), which requires employers to enrol their employees in a workplace pension scheme, provided employees meet the qualifying criteria and do not choose to opt out of the scheme.
The policy was developed during the years following the 2005-06 Pensions Commission, as part of a package of pension measures, with the aim of increasing both the number of people saving for retirement, and the amounts being saved. Implementation of AE began in October 2012 with the largest companies, and the process will continue through all medium, small and micro businesses until 2018.
There are some lessons to be learned from the process but it is widely regarded as having been very effective to date. One indicator of success is that current opt-out rates, at around 12%, are much lower than anticipated.
However, only 3% of employers have so far been through the process. The next step, hundreds of thousands of smaller employers enrolling their employees over the next three years, will be a challenge of a very different scale and nature.
The context in which AE is being implemented has also dramatically changed in the last year. In Budget 2014, the Government announced new pension flexibilities which allow people much greater freedom in how they take and use their pension savings.
Find similar publications here: