Apprenticeships And Traineeships For 16 To 19 Year-Olds
HC 597, Sixth Report of Session 2014-15 - Report, Together with the Formal Minutes Relating to the Report
Author:

House of Commons - Education Committee

Publisher:

TSO (The Stationery Office)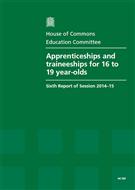 Add to Basket
In the report 'Apprenticeships And Traineeships For 16 To 19 Year-Olds (HC 597)' the Education Committee investigates how reforms to apprenticeships are being implemented following the Richard Review of Apprenticeships in 2012.
The report finds that the number of people undertaking apprenticeships has increased significantly during the current Parliament, and the number of young people doing an apprenticeship of a year or more has increased form 46% to 97%.
Good quality apprenticeships provide real benefits for apprentices, those who employ them and the country as a whole. Apprenticeships that do not offer substantial training and do not have a positive impact on income for those who complete the apprenticeship, should not receive Government funding.
The Committee concludes that the challenge for Government remains to drive up the quality of provision while ensuring that more employers commit to providing apprenticeships for young people.
Find similar publications here: