Royal Botanic Gardens, Kew
HC 866, Seventh report of Session 2014-15 - Report, Together with Formal Minutes Relating to the Report
Author:

House of Commons - Science and Technology Committee

Publisher:

TSO (The Stationery Office)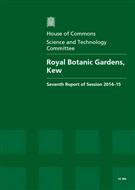 Add to Basket
The Royal Botanic Gardens, Kew announced that financial problems would result in them having to implement a programme that would make over one hundred scientists redundant, the report 'Royal Botanic Gardens, Kew (HC 866)' concludes that this impact, while not entirely due to Government budget reductions, has been exacerbated by how the Government manages the funding of the organisation, something the Committee regards as a recipe for failure.
Sudden changes in funding forced a more rapid change in scientific personnel than may otherwise have been necessary causing a public outcry at the risk posed to the Gardens and its world class science functions. The Committee heard that the management of the Gardens consider the current process provides them with little leeway to deal with unexpected expenses and means they are unable to properly plan for the future.
There is an urgent need for the management at the Royal Botanic Gardens, Kew to be given more freedom in how they manage their budget and an indication of funding over the longer term, to enable better planning for future problems.
Find similar publications here: