Manorial Rights
HC 657, Fifth Report of Session 2014-15 - Report, Together with Formal Minutes Relating to the Report
Author:

House of Commons - Justice Committee

Publisher:

TSO (The Stationery Office)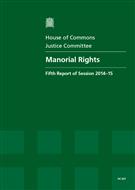 Add to Basket
The report 'Manorial Rights (HC 657)' examines the law pertaining to manorial rights, which are defined as certain rights retained by lords of the manor in England and Wales when land became freehold in the early 20th century, and can include rights to mines and some minerals, sporting rights such as hunting, shooting and fishing, and rights to hold fairs and markets.
In the past such rights were not required to be detailed on the register of title, but they remained overriding - that is they bound the owner of the affected land even though they may not have known about the rights.
Changes made through the Land Registration Act 2002 sought to increase the transparency and knowledge of such rights by requiring that they be registered and removing their overriding status. This Act specified a deadline - October 2013 - by which such rights should be registered to ensure they could not be lost.
The committee proposes that a review be carried out by the Law Commission to assess whether the law related to manorial rights should be changed, including the question of whether all or some categories should be abolished, and how legislation could appropriately address compensation and human rights issues in such an event.
Find similar publications here: