Pre-appointment Hearing With The Government's Preferred Candidate For The Post Of Housing Ombudsman
HC 877, Fifth Report of Session 2014-15 - Report, Together with Formal Minutes Relating to the Report
Author:

House of Commons - Communities and Local Government Committee

Publisher:

TSO (The Stationery Office)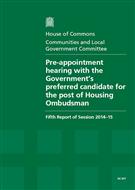 Add to Basket
On 16 December 2014 the Communities and Local Government Committee held a pre-appointment hearing with the Government's preferred candidate for the post of Housing Ombudsman, Denise Fowler; the report Pre-appointment Hearing With The Government's Preferred Candidate For The Post Of Housing Ombudsman (HC 877)' concludes - based on the evidence, that she is a very suitable candidate for the post.
The Housing Ombudsman administers the Housing Ombudsman Scheme. The purpose of the Scheme is for tenants and other individuals to have complaints about members investigated by a Housing Ombudsman. The Scheme states that the role of the Ombudsman is to resolve disputes involving members of the Scheme, including making awards of compensation or other remedies when appropriate, as well as to support effective landlord-tenant dispute resolution by others.
The Committee advises that to be independent of central Government, Denise Fowler should not remain a civil servant, and should resign from the Civil Service before taking up the post.
Find similar publications here: