The Armed Forces Covenant In Action Part 5: Military Casualties, A Review Of Progress
HC 527, Fourth Report of Session 2014-15 - Report, Together with Formal Minutes Relating to the Report
Author:

House of Commons - Defence Committee

Publisher:

TSO (The Stationery Office)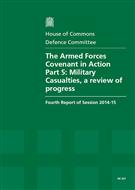 Add to Basket
The report 'The Armed Forces Covenant In Action Part 5: Military Casualties, A Review Of Progress (HC 527)' examines the support currently offered to military casualties.
Although Armed Forces personnel have a lower rate of criminal offending than the general population, the rate for violent incidents is substantially higher, particularly amongst those who have previously been deployed in combat roles and those who misuse alcohol.
The Ministry of Defence (MOD) needs to understand better the links between deployment, alcohol misuse and violent behaviour especially domestic violence. In particular, there has been no research as to the incidence of domestic violence amongst Armed Forces personnel.
There is also a backlog in the processing of claims for War Pensions and for the Armed Forces Compensation Scheme. The Committee is concerned that the demand for support from the Defence Recovery Capability already exceeds supply. Veterans need more support navigating the overlapping bureaucracy of the health system. Despite assurances from the MOD and the Department of Health, the Committee is concerned that, as operations in Afghanistan and Iraq fade from the public's mind and personnel move on to other lives, the necessary long term support for those injured physically and psychologically will not be maintained.
The MOD, in conjunction with the Health Service, has introduced some measures to support veterans with mental health problems and amputees but other conditions also require this focus. The MOD should monitor the results of its work and report the outcomes in its annual report on the Armed Forces Covenant.
Find similar publications here: