National Health Screening
HC 244, Third Report of Session 2014-15 - Report, Together with Formal Minutes Relating to the Report
Author:

House of Commons - Science and Technology Committee

Publisher:

TSO (The Stationery Office)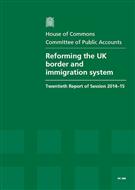 Add to Basket
The report 'National Health Screening (HC 244)' warns that the risks and benefits of participating in screening programmes for conditions and diseases like cancer are not consistently communicated by either the NHS or private health care providers.
The Committee urges the Government to ensure that a standardised process to produce screening information is introduced and that better communications training is provided to health care professionals.
A recently revised breast cancer screening leaflet for the 50-70 age group, with its more explicit focus on helping women make an informed choice about whether screening is right for them, marks a step in the right direction. However, the inquiry found that the principles followed to revise this leaflet have not been applied to the communications developed by other NHS screening programmes.
The report recommends that steps are immediately taken by the Government's advisor on screening, the UK National Screening Committee, to devise and implement a standard process for producing information that facilitates informed choice. It also recommends a clarification of what informed choice means for potential screening participants so that different screening programmes can be more effectively evaluated on their delivery of it.
MPs are also calling on the Office for National Statistics to validate the statistics presented in NHS screening information to resolve disagreement and confusion over their accuracy.
Find similar publications here: