Local Government Chief Officers' Remuneration
HC 191, Second Report of Session 2014-15 - Report, Together with Formal Minutes Relating to the Report
Author:

House of Commons - Communities and Local Government Committee

Publisher:

TSO (The Stationery Office)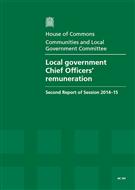 Add to Basket
During the first decade of this century salaries for senior council staff increased by some 75%, far greater than salaries increased for most people. The report 'Local Government Chief Officers' Remuneration (HC 191)' examines the process of deciding on Chief Executives' salaries in local government.
There is no one size fits all formula applicable to all councils' decisions on senior pay, since levels are set within the context of local needs and priorities. Setting a pay rate entails, first, establishing the responsibilities of a job and next identifying the appropriate local pay rate for such a job. Councils have access to local market data but the Local Government Association (LGA) and regional employers' bodies should address a lack information on the broader pay and recruitment trends over time and across regions.
Councils must critically assess the remuneration levels suggested by consultants and job evaluation schemes to ensure a good officer cannot be secured under local market conditions at a lower pay rate. Bonuses, although not the norm in the sector, should not be paid to someone simply doing their job, rather only when there is clear evidence of personal additional contribution, with sensitivity to local circumstances.
However, of more significance, councils are in many cases failing to establish robust appraisal systems, making it difficult to link performance to pay effectively. The LGA should publish updated guidance and councils should be required to get full council agreement to, and publish, details of the processes used to appraise staff so that the public can understand the basis on which reward decisions are made.
Find similar publications here: