Security On The Railway
HC 428, Fifth Report of Session 2014-15 - Report, Together with Formal Minutes Relating to the Report
Author:

House of Commons - Transport Committee

Publisher:

TSO (The Stationery Office)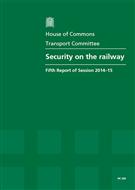 Add to Basket
The report 'Security On The Railway (HC 428)' examines the effectiveness of crime reduction strategies on the UK's railways.
Crime on Britain's railways decreased year-on-year over the past decade. That trend shows the effectiveness of the specialist rail policing provided by the British Transport Police (BTP). The BTP's commitment to tackling crime while minimising delays for the travelling public is impressive.
Despite the welcome decline in overall crime, the Committee identified areas where the BTP could improve its performance. The British Transport Police Authority (BTPA) is the body with responsibility for setting the BTP challenging but achievable targets to tackle crime on the railway. The BTPA must fulfil its remit and avoid any perception that it is too close to the people whom it should be holding to account.
Vulnerable children and young people are often found in and around railway stations, and the BTP currently has no targets in relation to child protection. The Department for Transport, the BTPA, the BTP and the charity sector should work together to tackle this emerging issue by examining the available data and reviewing current practice.
The Committee concluded that the BTP model of developing specialist policing skills and securing funding from transport providers might usefully be applied to other transport modes, such as aviation. Such an approach could minimise delays, maximise security and reduce the cost of policing to taxpayers.
Find similar publications here: